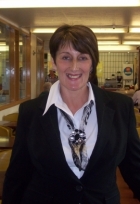 Alison Kathryn Evans - Alison Kathryn Evans (MBACP)
Online Therapist, Online Counsellor • Female • Rodney Street Liverpool L1
I am warm empathic approachable and flexible
www.youtube.com/watch?v=qWNaUBI38nk&feature=related send an email 07941508729
---
About the Practitioner
In 2004 I decided to add academic knowledge to my life experience and become a professional counsellor.

I have worked on a voluntary basis with those who are drug and alcohol dependent, in addition to prisoners and their families.

To date my work experience is varied and interesting and I am fully committed to supporting people through counselling as it feels right to me and I work naturally and easily as a result of this.

I would describe myself as being naturally empathic and intuitive and I am also flexible and adaptable and can often see clients with very little notice. People find me warm and easy to open up to.

My work commitments and life style is such that I have plenty of time to devote to face to face,online and telephone counselling, particularly late afternoons and evenings and into the early hours.
Areas of Expertise
Anxiety And Depression
,
Assertiveness
,
Body Image
,
Career
,
Childhood Issues
,
Confidence
,
Decision Making
,
Goal Setting
,
Grief And Bereavement
,
Life Direction
,
Migration And Relocation
,
Motivation
,
Personal Development
,
Relationships
,
Self Esteem
,
Sexual Abuse
,
Sexual Problems
,
Sexuality
,
Spirituality
,
Stress And Burnout
,
Trauma Recovery
Service Options
Email, In-person appointment, Telephone, Text Chat, Webcam
Fees & Payment Options
Fees are negotiable for online and telephone sessions Face to Face £35/£45 per hour Couples £45/£55 per hour I offer concessions for student. Pay pal/direct bank transfers are acceptable means of payments
---
Professional Details
Professional Association Registration Details
BACP (British Association for Counselling & Psychotherapy)
I am a fully qualified Professional Counsellor with a Person Centered background working in an integrative manner.
I am a member of the BACP and work in accordance with their ethical framework.
Because each person is unique, I offer a service tailor made to the individual and the presenting issues.
I have worked in a High School with young people between the ages of 11 and 15 years of age
I worked in a GP Practice with clients who were diagnosed with various forms of mental ill health.
I have worked for Age Concern, supporting clients above the age of 50
I have worked with prisoners and their families, along with those whose lives have been affected by substance misuse and addiction.
I presently work with clients who have been raped and/or sexually abused at some point in their lives, historically or recently, many of whom are going through court procedures.
My clients are male and female adults and young people.
I also work online for Mootu Counselling Service and Liveperson, Counselling and Coaching people from the global community who bring a variety of issues, for which they require support.
I have a client feedback of 526 positive ratings under my profile there, which is Personal Touch (MBACP).
There is a short video clip on Mootu, which elaborates on the type of work I do and enables you to hear and see me as I talk about my it.Simply type Alison Kathryn Evans (MBACP) on the search the counsellors tab on that site for viewing.
I work face to face seeing clients privately in the heart of Liverpool City Centre by appointment only and can often be seen with very little notice,including evenings and weekends.
Qualifications
Foundation in Counselling Skills and Theory
Intermediate in Counselling Skills and Theory
Advanced Diploma in Counselling Skills and Theory (UCLAN)
Training Day (Rape and Sexual Abuse 25th Sept 10
Training Day (Legal Aspects and RASA System) 26th Sept 10
Telephone Training(Staffing the Support Lines) 17th Oct 10
Training Day (Vicarious Trauma )Nov 10
Training for Support Phone Line workers Nov 10
Training (Domestic Violence) Dec 10
I have obtained numerous qualifications on short courses covering a variety of topics as part of my ongoing professional development.
---
Contact Alison Kathryn Evans