Therapy & Counselling Resources > Life Direction
Life Direction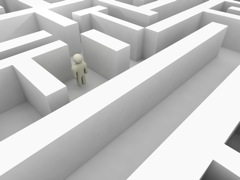 It is normal for people to occasionally find themselves at a crossroads and unsure of which direction to take. Such a situation may occur, for example, after a bereavement or loss of a job or at particular times of life when it is time to make changes. Expressions such as 'mid-life crisis' and 'sense of purpose' can reflect the difficulties of finding life direction.
There are a number of ways in which online coaches, counsellors and therapists can assist with questions of life direction. Exploring values and determining priorities can be useful as can adjusting lifestyle or goals. Different practitioners offer different ways of approaching questions about life direction. Career counselling may help with vocational direction. Life coaching may recover motivation. Psychotherapy may be a way to investigate underlying issues or concerns that are causing confusion.
Finding direction in life can involve discussions around relationships, personal development, goal setting, career and spirituality. If you are lost or stuck it might help to reassess your life purpose with a coach. Another approach might involve reconnecting with past experiences to recover what drives and inspires you. Online therapists and counsellors can assist you to do this.
Photo credit: Svilen Milev
This information is only general and is not a substitute for a professional consultation.
Tweet
Featured Practitioner
doug foot
I am a fully qualified and experienced practitioner and teacher working to offer the benefit of combined know how and experience. As a BACP Counsellor and Psyc...
Articles
Alcohol And Drug Use
Anxiety And Depression
Assertiveness
Body Image
Career
Childhood Issues
Confidence
Decision Making
Financial Issues
Gambling
Goal Setting
Grief And Bereavement
Life Direction
Mediation
Migration And Relocation
Motivation
Pain
Parenting
Personal Development
Phobias
Relationships
Self Esteem
Sexual Abuse
Sexual Problems
Sexuality
Spirituality
Stress And Burnout
Trauma Recovery